I really like this one. Little Jon Jon could sleep on the lower shelf.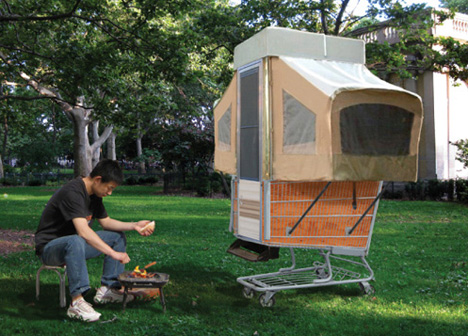 Plans are here:
http://www.treehugger.com/files/2009/11/a-home-in-shopping-cart.php
Hey just put on a tow bar on and you are ready to go LOL
This one is for the inner city crowd. They can roll it to the nearest city park and set up quickly.



Charter Member





Posts

: 1605


Join date

: 2009-09-29


Location

: White Pine, TN



It would be really great for camping in the wal-mart parking lot.
Hey Richard maybe I could get you set up at Walmart next year to sell our buddy poppies for our Vets they might feel sorry for you can can raise more money for the vets
LOL, I'd be a poser and a fraud. I have type 1 diabetes. Uncle Sam didn't want me. It was a shame too, since I did well enough on the ASVAB to be recruited for the Navy Nuclear program. I don't know if I could have cut it in the program, but it would have been a nice career to have tried.
Nope thats not right we are the VFW we are not anything to do with the Gov but we lobby to help all Vets for which they are in titled to, because Gov won't tell them . so many people who never went in do Volunteer for fun raisers to help so see you could and you could stick it to gov for not letting you in LOL

---
Permissions in this forum:
You
cannot
reply to topics in this forum